22 November 1963 :
A Brief Guide to the JFK Assassination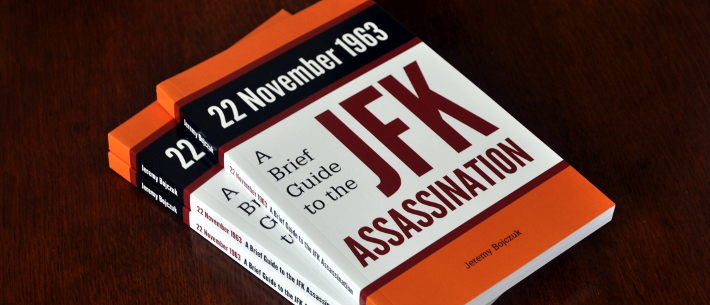 This readable and fully referenced account of the JFK assassination concentrates on the important questions, ignoring the mass of poorly supported speculation that makes the subject confusing for many people.
The book explains, among other things:
the case against Lee Harvey Oswald, and why he was the only official suspect;
why the investigation of the assassination ceased almost immediately after Oswald's murder, two days after President Kennedy's;
the importance of Oswald's apparent visit to Mexico City in the summer of 1963;
the problems with the lone–gunman theory and the main conspiracy theories;
and how the political context of Kennedy's presidency reveals who may or may not have been behind the assassination.
22 November 1963 will not tell you who killed President Kennedy, but it will show you the best way to think about the question so that you can make up your own mind.
Paperback and Ebook Editions
The book is published in three formats:
Paperback

204 pages.
8½″ x 5½″ (approx. 21.5 x 14 cm).
ISBN: 978–0–9931003–0–7.
Available exclusively from Amazon.

Kindle Ebook

For Kindle devices and software.
Available from Amazon at a special promotional price.
ISBN: 978–0–9931003–2–1

Standard EPUB Ebook

For other devices and software, including Android phones and Nook, Kobo, Apple and Sony devices.
ISBN: 978–0–9931003–1–4
Ebook — Extra Features
The ebook editions contain more than 500 web links to sources such as witness testimony and experts' technical reports. It is perhaps the first JFK assassination ebook to allow readers to check the essential documentation for themselves.
Free Download
Sample chapters are available for download free of charge (PDF, 270 KB).
Credits
Author: Jeremy Bojczuk.
Publisher: Boxgrove Publishing, October 2014.
Cover design, typesetting, and ebook coding: Lab 99 Web Design.
Prices
All the prices quoted on this page are the publisher's recommended prices. The book's two main distributors, Amazon and Google Play, sometimes offer discounts, so please check your local Amazon or Google Play website for details. You'll find the relevant links below.
US   ebook $5.99   paperback $12.99
UK   ebook £3.99   paperback £8.99
CA   ebook $6.49   paperback $15.99
EU   ebook €5.99   paperback €12.99
AU   ebook $6.99   paperback $16.99
NZ   ebook $6.99   paperback $16.99